✔️

This is canon!


This page is about a CANON character. Feel free to add fanon information and headcanons to this page aslong as you mention that it is not canon. For more information read the Rules and for canon information visit the main FNaF wikia.
Springtrap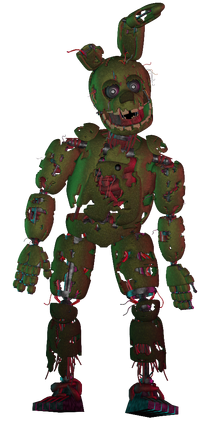 Springtrap
Rabbit
Golden/Dull Yellow
???
?
???
None
Info
Springtrap is the main antagonist and only true animatronic in Five Nights at Freddy's 3. He is a massively-damaged rabbit animatronic/springlock suit, as well as the only antagonist that can kill the player and give them a Game Over, as the phantom animatronics can only jumpscare the player and impair their vision and/or hearing.
Close examination of Springtrap and the rare boot images depicting him show that there appear to be human remains within the suit. When viewing the torso and other exposed sections of the endoskeleton, there are chunks of dark pink material that resemble human innards. His neck is covered with lines resembling blood vessels. In the boot images, Springtrap has his jaw open and is pulling the suit's head up, revealing a mummified-looking human head.
Headcanons
In her universe, despite the animatronics being alive on their own, Purple guy is still inside of the Springtrap suit. Because of this, Springtrap seems to have evil side to him, with unwanted murderous thoughts entering his head. He's a little "loopy" to say the least.
He has a crush on
Mangle
.