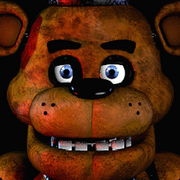 Feel free to add your own FNaF theories to this page. Please make them look like this:
Name of your theory
This theory is created by 'ADD YOUR USERNAME OR THE NAME OF THE CREATOR OF THIS THEORY'.
All theories
Add your theories here.
Nightmare is a Demon
This theory is created by an anonymous user on TV Tropes
Mainly this theory states that Nightmare is actually a demon, who takes the form of the unsettling animatronic we see in FNaF 4. The theory also states that Nightmare has been present throughout the series, he is the main force that drives Purple Guy to commit the murders in the first place.
Another part of this theory suggests that Shadow Freddy is actually another form Nightmare takes.