✎

It's a work in progress!


This page is under construction, meaning it is NOT fully finished.
Slippy's Mall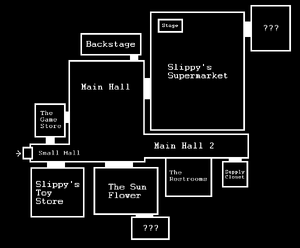 A map of Slippy's Mall.
Slippy's Mall


Grin's Mall (Former name)

Unknown
◆ The Polar Bear Trio (Slippy's Supermarket)


◆ Buck (Slippy's Game Store)
◆ Sunflower (Former mascot of The Sun Flower)
◆ Grin (Former mascot of Slippy's Mall/Grin's Mall)

◆

Harry Bold

(Current owner)


◆ Oliver Grin and Jane Grin (Former owners)

Slippy's Mall is a fan location created by Child of Sun Flowers and the location of the story of Slippy's Mall.
Stores
NOTE: Map used as the main image for this page might not be accurate.
Slippy's Game Store

Slippy's Toy Store

The Sunflower