Slippy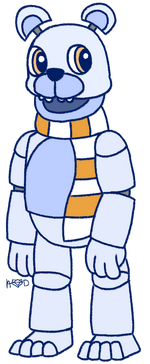 Slippy
Animatronic polar bear
Blue
Main mascot of Slippy's Mall

Main singer of The Polar Bear Trio Band
N/A
Unknown
None
Slippy is the main mascot of Slippy's Mall. He is a small blue polar bear with a white and orange scarf.
Information
Slippy became the main mascot of Slippy's Mall after Grin got scrapped.He is smaller then the FNaF animatronics and has a more 'round' design. Slippy is the lead singer of The Polar Bear Trio Band.
Slippy's programmed personality is a little bit basic. He is just a friendly bear character that loves entertaining children. At night however his true personality shows. He seems to have a very bossy and arrogant personality, other animatronics often dislike him because of his flaws. Slippy also has a soft spot for Missy and Gloomy, they are his partners after all.
Trivia
He was supposed to have a crush on Missy
Slippy nose can glow blue, he and Gloomy are the only animatronics with this ability.
He is based on a real-live animatronic, who is a normal polar bear.