Missy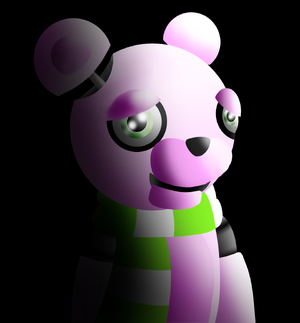 Missy
Animatronic polar bear
Pink
Mascot of Slippy's Mall

Back-up singer of The Polar Bear Trio Band
Stage (Slippy's Supermarket)
Unknown
None
Missy is a pink polar bear, she is a part of the Polar Bear Trio who are the mascots of Slippy's Mall (Location).
Information
Missy is a part of the Polar Bear Trio Band, she is a backup singer and sings more often than Gloomy. Missy is the only one band member who doesn't have a glowing nose. Missy has the same design as the other 2 polar bears.
Her programmed personality is very similair to her true personality, they are both very cheerfull and love making jokes. Missy is very optimistic and loves making friends, even if they don't want attention.