✔️

This is canon!


This page is about a CANON character. Feel free to add fanon information and headcanons to this page aslong as you mention that it is not canon. For more information read the Rules and for canon information visit the main FNaF wikia.
Lolbit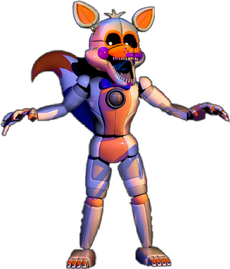 Unedited Image by The-Smileyy
Lolbit
Animatronic Fox
Orange and White
---
Unknown
Unknown
---
H
Info
Lolbit is essentially a recolored Funtime Foxy, repainted to match the FNaF World version of Lolbit, with the only exception being the absence of its hook-hand from its original appearance. It has no visible eyeballs nor eyelids, but instead possess glossy-black eyes with large white pupils. It is colored in white (perfectly matched to Funtime Foxy's) with orange highlights surrounding its eyes. Its snout and inner ears are also orange. It also has purple cheeks, lipstick, bow tie and freckles. Contrary to its original counterpart, it does not have as much endoskeleton, the only part that is properly supported being the muzzle. It lacks eyebrows in Sister Location and Ultimate Custom Night, but has what appear to be white eyebrows in Help Wanted. Unlike Funtime Foxy, its hands, fingernails and knee joints are white.
Headcanons