Warning: This page (might) contain spoilers for the main FNaF Novel Series.
✔️

This is canon!


This page is about a CANON character. Feel free to add fanon information and headcanons to this page aslong as you mention that it is not canon. For more information read the Rules and for canon information visit the main FNaF wikia.
Charlotte Emily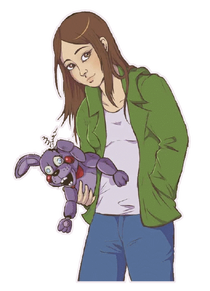 Official art by LadyFiszi.
Charlotte Emily
Charlie
Very advanced AI
Female
17 (TSE)

18 (TTO)
College Student
Henry

(Father)

Sammy(Brother)
John

,

Jessica

,

Marla

,

Carlton

,

Lamar
William Afton (Novels)

,

Circus Baby (Novels)
John
Charlie is the main character of the FNaF Novel series.
Information
"Charlie grew up in Hurricane, but left ten years ago to live with her Aunt Jen, who taught her to be fiercely independent and self-sufficient. With the passing of the series, Charlie has become increasingly determined to find answers to the mysteries of her haunted past, clinging to the few memories of her childhood that have remained with her. Even though Charlie finds it difficult to open up to others, she values ​​her friends and the connection they share."
━ Description from the Freddy Files.