Buddy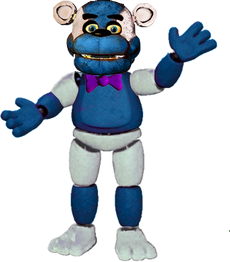 Buddy the Badger
Animatronic Badger
Dark Blue and White
Mascot of Happy Land Amusement Park
Entrance of Balloon Float
Unknown
---
Info
Buddy is one of the mascots of Happy Land Amusement park. He is a walking animatronic that can roam through some areas in the park and has some phrases to say to kids.
History
Personality
The character of Buddy is portrayed as somewhat shy and mellow but curious about things. He was designed to get kids curious about other cultures and promote diversity/equality. As such, he is often around the Beef Noodles stall. He likes reading books as well.
Roles
Programmed Phrases
"Have fun at Happy Land!"
"People come from all sorts of places!"
"Try some food from Japan!" (when stationed near Beef Noodles)
"It's ok to be different!"
"I love to read!"
Trivia
Gallery