Buck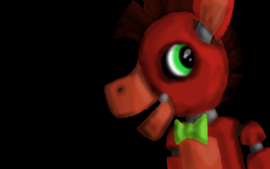 Buck
Animatronic horse
Red
Mascot of Slippy's Toy Store
N/A
Unknown
None
Buck is a fan made horse animatronic, he is the mascot of Slippy's Toy Store in Slippy's Mall (Location). He was a red coat and he has brown hair. He wears a green bowtie.
Information
Buck is a red horse animatronic, he is an older animtronic of Slippy's Mall (Location). Slippy was already a mascot of Slippy's Game Store when it still was Grin's Game Store (in Grin's Mall). 
Buck has very standard programmed personality, it is similar to Slippy's programmed personality but he does act older. His true personality is responsable and acts like a father figure to the other animatronics in the mall. Buck is very wise and knows about stuff that happend in the mall but not as much as Gloomy.